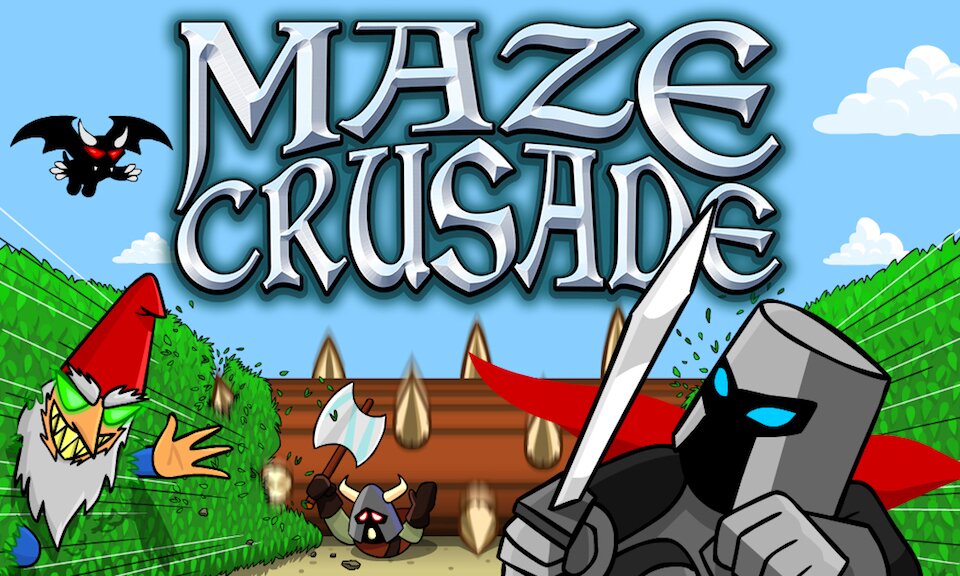 Description
MAZE CRUSADE is a new matching puzzle adventure game! Guide the young knight through 9 treacherous maze worlds including a garden, a forest, a dungeon, and a swamp battling endless gnomes, sorcerers, and armies of skeletons. The swipe controls are intuitive, and the mazes are randomly generated to ensure a new and fun experience each time you play!

Did we mention the wall of spikes that chases you through the maze? Complete over 60 crusade achievements on your way to bringing honor and glory to your kingdom. Find goats and holy grails to help you make it home!

While mazes have been enjoyed for millennia (the first recorded maze in history dates back to ancient Egypt!), Maze Crusade brings a challenging maze experience to your iOS device in a brand new way. Maze Crusade encourages quick-thinking, fast fingers, and a knack for match-3 as you traverse the 9 unique worlds and strive for the end!

Invite your friends to play and see who can reach the top of the leaderboard!

Can YOU survive the maze?

History
Maze Crusade has gone from a simple combination of the running and matching genres to an expansive 2D medieval adventure game in less than one year! The team at My Evil Twin has spent countless hours to build not only a groundbreaking style of the infinite puzzle game, but also the nine immersive worlds of the Maze Crusade Kingdom. All the mazes, characters and animations are hand-drawn to bring new life to this unique scroller in the endless puzzle genre.

Features
Connect to Facebook and Game Center to loot your friends who have died in the maze.
Nine maze worlds including a garden, a forest, a dungeon, and a swamp.
Easy-to-learn swipe controls.
Cast spells in the maze including invisibility, super pulse, and maze freeze!
Collect stones to build arrow-shooting and fireball-hurling towers in order to stop your enemies in their tracks.
Get special powers to gain magic armor and ride the powerful horse!
Defeat the sorcerers, skeletons, henchmen, evil garden gnomes, wolves, and gargoyles!
Complete over 60 dangerous crusades to bring honor to your King.
Upgrade your spells and weaponry to become the most powerful Knight in all the land!
Over 100 lines of voiceover narration as the Knight reflects on his journey through the maze.
Videos
Launch Trailer YouTube
Gameplay Footage **COMING SOON!!**
Additional Links
W.E.L.D.E.R. - A swapperiffic word game by My Evil Twin
www.weldergame.com
About My Evil Twin
My Evil Twin
My Evil Twin was founded by Britt Myers, the creator of W.E.L.D.E.R., the #1 paid iPad game. W.E.L.D.E.R. was named to "Top Ten Apps of 2011" lists by the New York Times, the Associated Press, Mashable and more. My Evil Twin is an independent iOS development shop with a slate of new exciting games in development for 2014.
Maze Crusade Credits
Britt Myers
Executive Producer / Game Designer / Developer
Amanda Wixted
Senior Developer
Michael Rankin
Developer
Jon Brzyski
Senior Artist
Brody Wixted
Producer
Allan Norico
Designer
Albert Pardo
Animator
Aaron Brewer
Animator
Julia Liu
Animator
Joyce Lee
Graphic Designer
Anthony Litton
Gameplay Consultant
Matthew Obst
Gameplay Consultant
Rusty Moyher
Gameplay Consultant
Matthew Schoenfeld
Sound Design
Jay Culliton
Audio Engineer
Daniel Heffernan
Audio Engineer
Shaylah Sheridan
Assistant
© My Evil Twin Gaming Corp.
All names are trademarks or registered trademarks of My Evil Twin Gaming Corp. or their respective owners.
All rights reserved